Published: Monday, 14 Mar 2011 | 1:49 PM ET (CNBC.com)
Are materials headed for a major meltdown?
According to Jeff DeGraaf, institutional investors top ranked technical analyst for the past six years, a worrisome signal may be emerging.
DeGraaf, recently left ISI Group to start his own firm, Renaissance Macro Research and spoke with Fast Money first since starting his own firm.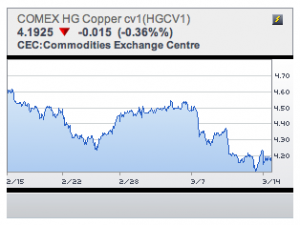 In a live interview on CNBC's Halftime Report, DeGraaf explains that he's concerned by the price action in copper – called doctor copper – because it often serves as a bellwether for moves in the sector broadly, and something the entire market.
"Materials in many ways are the eyes of the world, particularly the developing world," he says. "And weakness in copper is a question mark."
Over the last few months, many investors have piled into copper, as a bet that demand from developing countries would keep sending prices skyward.
But in recent days investors have punished copper and other industrial metals as China has moved to curb growth in their efforts to curtail inflation. And in the wake of the earthquake, concerns have surfaced about decreased auto production in Japan; that's dragged down copper prices even more.
Does weakness in copper signal broader issues for the materials sector?

For a 'tell' DeGraaf tells the Fast traders to watch the action in Freeport McMoRan [FCX  48.85  
-0.63  (-1.27%)  
]. "It tends to lead copper between 2 and 6 weeks," he says. And recently "FCX has been weaker than copper." he says.
If FCX trades at 65-day low, DeGraaf takes it as a signal of a breakdown.
Although that may sound like a short signal, DeGraaf cautions not to run out and go short, broadly. Instead, DeGraaf says to interpret the move as a sign to make moves cautiously in the space.
Airtime: Mon. Mar. 14 2011 | 12:58 PM ET

Jeff deGraaf, Renaissance Macro Research, discusses whether the global markets are headed for a meltdown.